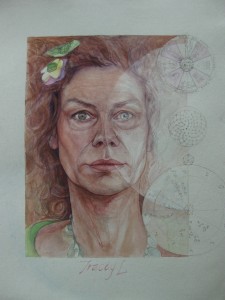 Art is at the centre of my being and is and always will be precious to me.
I was deputy head girl at my school, sports captain for my house and my best academic subjects were Maths and Physics. I had a natural gift for Art though, being awarded the Arts cup, taking my A level at 16 and this was the area I chose to work within.
I was born in Wiltshire in 1964, studied in Cardiff and gained a BA in Fine Arts in 1986 and a PGCE from MMU in 2003. My work is concerned with the variety of different possible connections at any given moment and is based around the female experience. Jungian psychology, hermetic philosophy and quantum theory are areas of greatest interest.
I was influenced by the Impressionists and Post Impressionists as a child. Later the classics of Michelangeo, da Vinci, Botticelli, Caravaggio, Rubens. As an adult it's all the environmental influences we have around us and live with constantly, the choiceless awareness it creates and which I am aware of, that inspire me.
My artwork has always been figurative, though you'll find the influence of the sea running through much of my output. I have a depth of experience of all roles in a life class, observer, observed and observing having also been a life model for about 10 years, in and around being a practising professional artist and teacher. I use all media and materials, with a special place for the exceptional Two Rivers handmade paper.
I am conscious of 3 ways I make sense of my experience through my work:
I keep sketchbooks, doing a daily drawing is a discipline as is monthly life drawing. Though it's observational, through empathy with the subject matter I also gain energy which I can put into the work and with compassion, the present moment, which is priceless and essential for an artist.
I look to access deeper levels of the unconscious through doodling and dreams, a bit like diving for pearls! I can understand more consciously once the visual language has risen to the surface and then develop further as I see fit.
I attempt to combine these and make my reality tangible through art.
I am always seeking commissions, working together to help you remember special times in the authentic and unique way only Art can provide.