Events
This is an exciting and unique additionally element to add in order to fully commemorate a special event or time.
Every aspect bespoke and personal to suit you and your requirements.
There is a consultation at your convenience beforehand, to make sure it will meet all your needs; Media, size style and type, items for inclusion, for example.
Ideally this would have been face to face but can also easily be done via phone, email or video.
A few minutes in person before the day enables me to achieve a likeness in the painting. However, this can equally be achieved via video link too.
Although it would be optimal if I am in situ, as long as I have a video link I am able to work from video and screenshots: Please see examples on my portrait pages of this technique. I would sketch during the ceremony and continue work with the painting throughout the events, being available for guests to view artwork in progress and chat with them as part of the experience offered, if i am present. Again this can be set up with video conferencing, subject to the venue.
The artwork then generally returns to the studio, where I use any additional visual information gathered during the day to complete a painting fully.
Artwork given to you on completion by arrangement.
Copyright remains mine.
Prices starting from a £1000 package includes the original painting, preparatory drawings, two A4 prints and 100 digital collage cards created from imagery during the event; These are so immediate they can be delivered in time for your thank you's.
Cards and prints are also available separately.

Contact me for more information and to discuss without obligation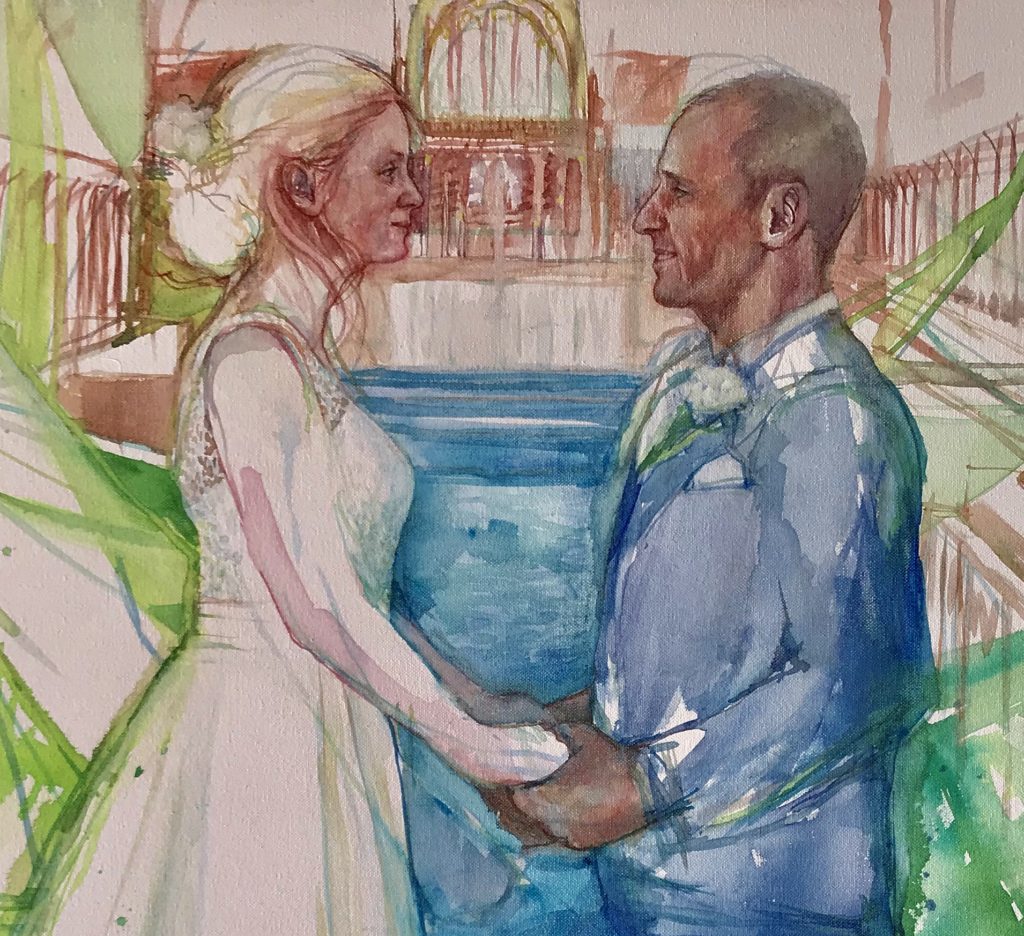 A testimonial from us:

"Our wedding painting is a perfect, unique and personal way to remember our special day.

Tracey was brilliant throughout the process.

She was keen to chat with us prior to the wedding to understand our style and which elements of the day were most important to us, so each could be included in the painting.

This meant that on the day itself, Tracey could work on the painting while we were busy with the numerous Bride and Groom duties!

Our guests loved checking in on the progress during the day and being able to ask questions.

We ordered prints of the finished painting as Thank You cards for our guests so they can see the final piece."


S and C Taunton
"Thank you ever so much for your work. We love the painting and continue to be impressed by how brilliantly you captured the day."

Drawings for Wedding at Cornish Camels in Cornwall.
Drawings made during the ceremony and sketching during reception.
Also being available to guests for quick portraits on demand throughout the afternoon.