Most work is made through an initial discussion and agreement with ongoing conversation about progress and refinements as imagery progresses.
Some clients have kindly agreed to my posting what they have written of the experience…
Contact me for a discussion without obligation
Commission Prices start from £100 for a drawing
Having seen and purchased an excellent painting by Tracey, I felt compelled to commission a personal piece.
Tracey was generous with the time that she spent on the sitting, and on the time she took to discuss my requirements.
Our face-to-face time, and Tracey's skill, resulted in an artistic outcome that exceeded my expectations.
Tracey captured me in the image that she created.
P Devon
Watercolour On Paper 40x60cm approx
"Tracey is a rare artist in that she can take one's vision and make it happen on canvas. She does does not impose her own interpretation of the piece of work but allows herself to be the conduit through which the clients ideas flow. A talented and selfless artist"
Fr Shane
I have been lucky enough to have Tracey do two pieces for me.
Both of my dogs: The first a large oil painted canvas, the likeness is unreal and she really captured the spirit of my dog.
The second is a different style but captures my current dog amazingly.
Tracey takes time to found out what exactly what you want and communicated throughout and sent me updates.
I would not hesitate to recommend her. You wont be disappointed.
T. Bury
It was absolutely Fab-u-lous having my portrait done by Tracey and all the family have loved it.
Six prints have already been distributed.
My face and hands are in brilliant detail and I remind myself of a gambler in a pre-war Havana Cafe!
It's no gamble however having it done by Tracey.
So for super detailed portraits she is your girl.
G. Cornwall
This is an amazing picture of Daniel.
A lovely surprise present too!
You are a very gifted and talented lady.
I would recommend you.
M. Cornwall
Watercolour on Wood Blocks 15x20cm
Tracey has such a talent for depicting your personality within her paintings.
She's a true master at how she wields her medium & allows the emotion of the person to be revealed.
She listened carefully & understood completely what I was after.
She put me at ease at all times & I would highly recommend commissioning her
A truly gifted artist & a wonderful woman!
S. Sussex
Oil on Canvas 60x80cm approx
I arranged for artist Tracey Miles to commission a painting of our pet dog, Polly.
Sadly Polly died but her memory and the joy she gave us lives with us daily in this unique and beautiful painting which Tracey has captured her full character in.
I. Hertfordshire
Pencil on Paper 30cm x 40cm approx.
Hi Some words about my commission:
In 2016 I commissioned Tracey to produce a sketch portrait of my twin girls (then 14 months old) for my wife's surprise Christmas present.
Tracey came over and spent an hour sketching at our house as the kids played and romped around.
Tracey's technique was to quickly capture the children's face and body shapes as they moved around and then fill in with increasing detail when the the children came back to the same position.
The result was a fantastic pencil montage of their play activities, which was incredible to witness and it produced a great result which my wife really loves.
D. Cornwall
To say that we are pleased with our special "double portrait" is a complete understatement, we are thrilled!
You have captured our facial images so accurately, and managed to show a friendly caring picture, of the love for our sailing memories and the story behind this.
May we also compliment you on the professional and reliable way that you processed our commission, keeping us informed step by step and ensuring that we were happy with each stage. At no time did we have any concerns about what we had asked of you, and what we now know you created so beautifully for us.
You are a highly talented artist and we hope that you will allow us to treat you as a friend.
Thank you again.
P and R. Cornwall
"It gives me great pleasure to endorse the work of the gifted portraitist Tracey Miles; my family sprang a large surprise party upon me for a Significant Birthday, and rather than engage the usual photographer, they asked Tracey to come and draw the proceedings live.
Working at high speed, she documented the musicians and the guests and, captured not just the likeness but, the exuberance of the occasion in a way that no camera could have managed.
Why not have an artist to your wedding or event?
Why not have Tracey?
Highly recommended"
JXC cliff house Cadgwith
Watercolour on Two Rivers Paper
Tracey Miles is a talented artist specialising in life drawing and portraiture.
I found it an interesting experience to sit for Tracey, during the sessions we would spend time getting to know a little about each other's lives and background, consequently she was able to use some of my "stories" in the finished portrait.
While she is working on the portraits she likes to incorporate her knowledge of the sitter to make a story in the painting, thereby creating something that can be treasured for a long time.
Tracey draws and paints what she sees and achieves a great likeness.
J. Cornwall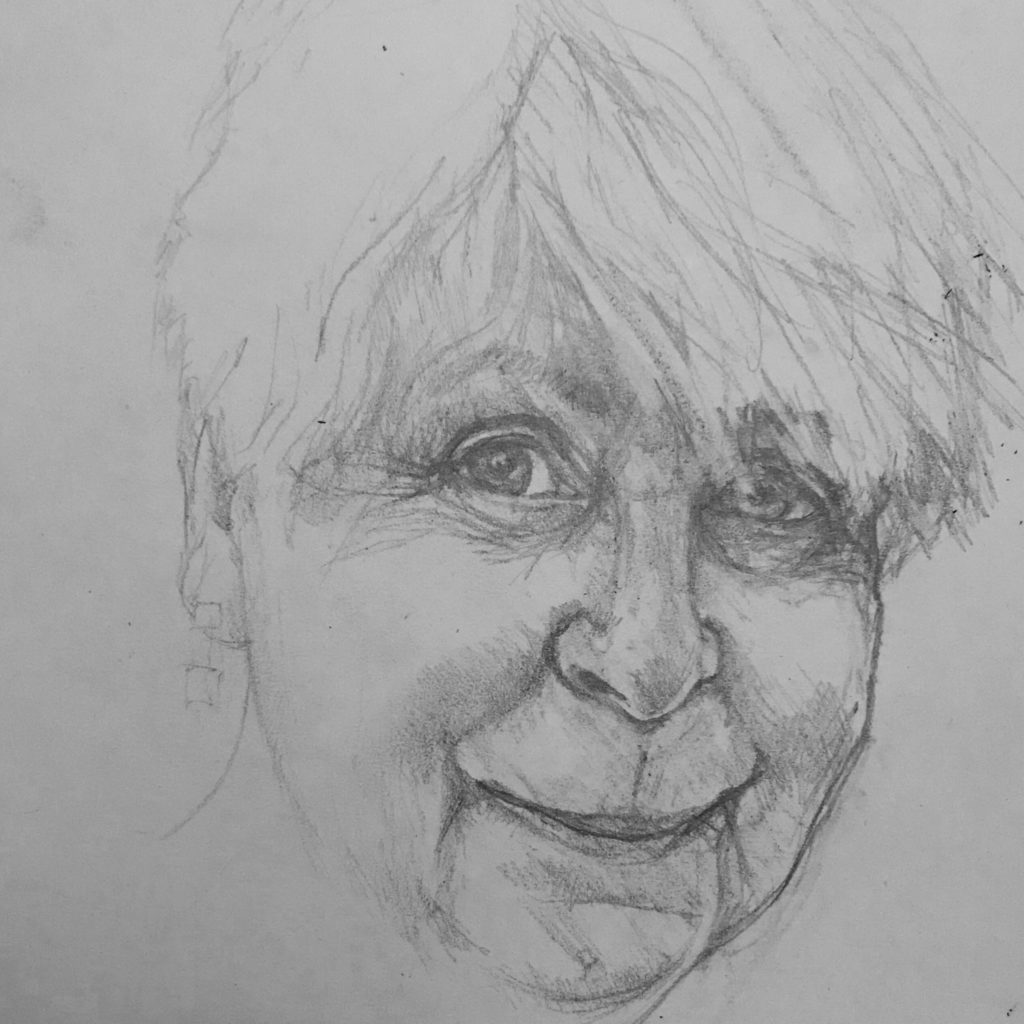 We are absolutely thrilled with the drawing. Thank you SO much. We keep looking at it but so far we can't see any way of improving it. You have captured our Patsy perfectly!
Watercolour and Acrylic on Board 20x20cm
One of Tracey's paintings…Love's Present is one of my most treasured possessions. I first saw it after walking a 500km Camino pilgrimage through Spain to Santiago as a gift to myself for my 50th birthday. The scallop shell is a symbol of Saint James (SAN Tiago) and perfectly captured the spirit of the walk. It evokes memories of this wonderful experience each day when I see it on my wall.
L. Queensland
I arranged to sit for a pencil portrait after I saw the the quality of Tracey's work in a gallery.
The session was relaxed and very friendly.
I sat for twenty minutes and Tracey produced a beautiful, sensitive drawing which I am delighted with.
I am now arranging another sitting so she can draw my grandchild!
– Sue
When my very good friend Sue told me she was going to have a portrait of herself by a local talented artist, I asked if it would be possible to have one also.
Not knowing what I had let myself in for I watched Tracey at work drawing Sue, 20 minutes later, it was my turn, sitting still and not talking for 20 minutes was a challenge for me and being studied at quite close range was somewhat nerve wracking however it all passed off quite quickly and the result in my view was a wonderful experience with a picture I can hang on the wall.
Many thanks Tracey for an excellent portrait.
– Michael
Watercolour on Two Rivers Paper 55x75cm
Last summer (2018) we asked Tracey if she would be able to paint a picture of our granddaughter, for her 17th birthday.
The resulting portrait was a perfect likeness of a beautiful young lady, her personality and joie de vivre shining through.
It was exactly what we could have wished for.
Thank you Tracey
Mr and Mrs W. Cornwall
Watercolour on Two Rivers Paper 55x75cm
"Tracey's paintings are honest, detailed, sensitive and beautiful.

Rightly, our family portrait has pride of place at the top of the stairs opposite the front door.
I pass it everyday.
Sometimes I study it, sometimes I let it study me.
It is unique and very special. A reminder of a time in our lives.
It is something I am privileged to own and will always cherish.
Thank you Tracey."
P. Cornwall.